AM Grand CH / BIS CAN Grand CH EX. Luvit's A Rolex Yacht-Master At Dalnavert CGN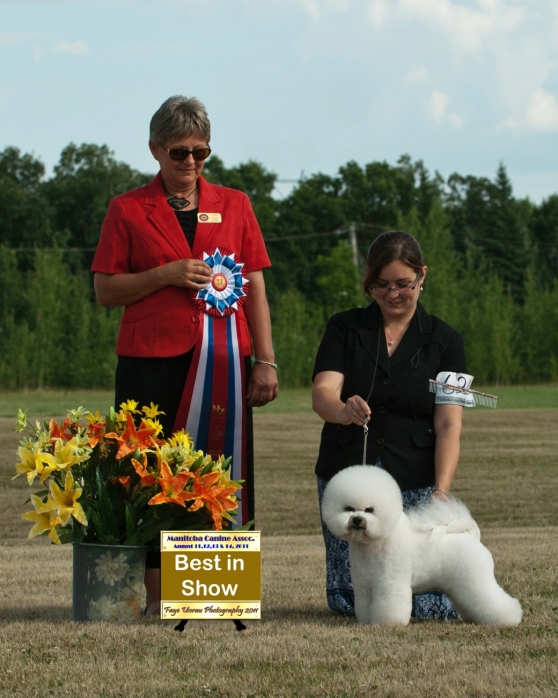 OFA - HIPS - GOOD / ELBOWS / LEGG-CALVE PERTHES / PATELLAS / EYES CERFED
Lex is a handsome male with rich black pigment, a plush coat, standing at 11 1/2 in. He loves the show ring making him a handler's favourite as he presents reach and drive in his go around. Lex was expertly handled by Carolyne Lucas and Chrystal Murray and groomed by Sandy Orford in Canada. CHIC 5 certified by the BFCA
In the USA Lex was expertly groomed and shown by Rick Day and conditioned by Gary Renegar.
WON BEST IN SHOW ON AUGUST 11TH, 2011
2011 #1 BICHON FRISE IN CANADA , #6 In GROUP VI .
November 19th, 2011 SHOW OF SHOWS in Ottawa , ON Canada
Notable Moments:
Lex left Canada for the USA in May 2010 with 5 points towards his Canadian championship. He completed his championship Nov20th at the Ottawa Kennel Club with a Group 2nd
Lex began his American show career at the BFCA National Specialty in Indianapolis Indiana with a 2nd in Open Bred By Special Events and 1st in Open at the Specialty
June 5th/10 Southaven MS WM BW BB 3 pts
June 6th Southaven MS WM Best Opp 1pt
June 12&13th; Ashville KC SCarolina WM BW 2 pts each day
July 22nd Greater Houston Bichon Frise Specialty BW 5 point major
July 23rd Houston All Breed show BW for a 5 point major completing his championship
Lex can be viewed on the BFCA National Specialty 2010 DVD.
2011 August 11, 2011 BEST IN SHOW 2011 #1 BICHON FRISE IN CANADA 2011 #6 GROUP VI IN CANADA
March 2012, Purina National BFCC Booster BEST OF BREED USA wins: 2 BOB , 3 Selects - Raleigh,NC 4 BOB , 1 BOS - York, PA
March 21, 2012 achieves American Grand Championship title with in 6 shows ! Handled by Chrystal Murray. November 1, 2012 Lex passes his CGN test to become a dual Grand Champion.
2012 LEX finished #3 in Canada with very limited showing.