AM/Can CH. Capichon Dalnavert Luvit Laine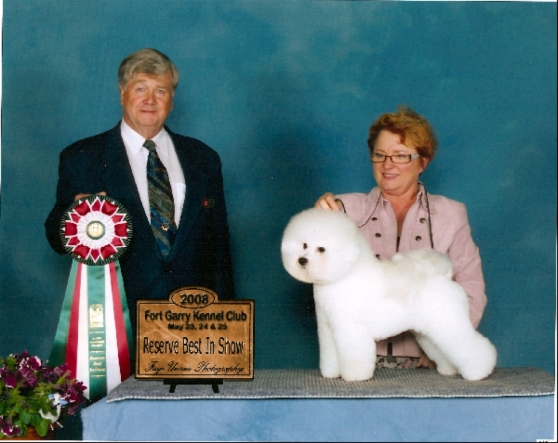 Lana is Canadian bred. She is 101/2" in height and carries a lovely plush coat. Lana is OFA certified hips, elbows, patellas and has her cerf (CHIC). Lana is a female that is an excellent representative of the breed standard. She not only moves clean front and rear, but has a strong drive in her rear that allows her to extend her self on the go around.
Lana is co-owned with Linda Ross of Luvit Kennels and lives in Florida. Lana was shown in the United States by Rick Day and in Canada by Sandy Orford. In April 2008, Rick showed her in in the Specials class (20 entries) at the BFCA National in Idaho, making the cut for Best of Breed. Both handlers were elated with her structural quality and her outstanding personality.
In January 2009, Lana whelped 4 boys 1 girl (the "Rolex" litter) sired by AM/UK CH.Manoir's Shot in the Dark JW, known as Bullet (see Bichon Reporter Issue, Fall 2008 p. 13).
"Watch" for her puppies in the show ring.
Notable Moments:
American Championship - 7 shows - 18pts with 4 majors
Group 3rd - March 2008 Tuscaloosa Kennel Club
Group 3rd - March 2008 Birmingham Kennel Club
Group 4th - April 2008 Raleigh Kennel Club
Qualified in the top 25 Bichon Frise - Eukanuba Invitational - California Dec. 2008
Canadian Championship - 5 shows - May 2008-Fort Garry Kennel Club
Reserve Best in Show - May 2008 - Fort Garry Kennel Club
Group 1st - May 2008 - Fort Garry Kennel Club
Group 3rd - June 2008 -Kenora & District Dog Club
Group 4th - May 2008 - Mid Canada Dog Shows
Top Bichon Frise in Canada 2008 - #5
First champion off spring : Am/Can. Ch. Luvit's A Rolex Daytona At Dalnavert ( Chic) " Tony ( 2010)
Second champion off spring: Am/Can. Ch. Luvit's A Rolex Yacht-Master At Dalnavert "Lex" Currently #1 in Canada ( 2011)
Third Champion off spring : Can. Ch. Luvit's Dalnavert Olympic Omegamania " Gracie" (2011)