ROBBIE'S BACK IN TOWN....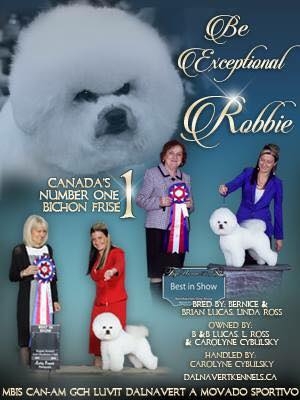 Our most decorated Bichon "ROBBIE" is back home after a fun filled few months travelling North America as a grooming competition dog for Michelle Skinner from Calgary. Hight light of his travels was , of course, Las Vegas. Last weekend , to show the fact that he is still very much one of Canada's top show dogs AM & CAN GRAND CHAMPION EXCELLENT LUVIT DALNAVERT A MOVADO SPORTIVO CGN RN won a GROUP 2 at the Alberta Kennel Club show and was pulled out amongst the top 6 in group numerous times.
You will see Robbie back out on the competitive grooming circuit for the rest of this year.